Culinary Classes and Experiences
Be inspired and take a masterclass with La Maison Bleue's renowned chef, Lala Sfia, who holds the knowledge and skill to the generations of recipes passed down by the El Abbadi family. Take a part of La Maision Bleue's rich history and tradition with you and learn to prepare, cook and taste some of the finest cuisine in Morocco at our newly launched La Maison Bleue Culinary School – the first of its kind in Fes.
Learn the techniques of traditional Morrocan cooking
For those interested in a hands-on culinary experience let us take you on a sublime discovery of our ancestral dishes. Our chef's enthusiasm for Moroccan cuisine is evident in any language. Their lively personality and extensive knowledge of the traditions behind Moroccan food will make the learning experience both fun and informative.
Capable of catering for groups of up to 10, students share one workstation between two, all are equipped with a gas cook-top, sink and relevant utensils. The kitchen itself is designed with marble and colourful zellij tiling, inspired by the grandeur of the Riad, providing an authentic Moroccan setting for your Moroccan culinary experience.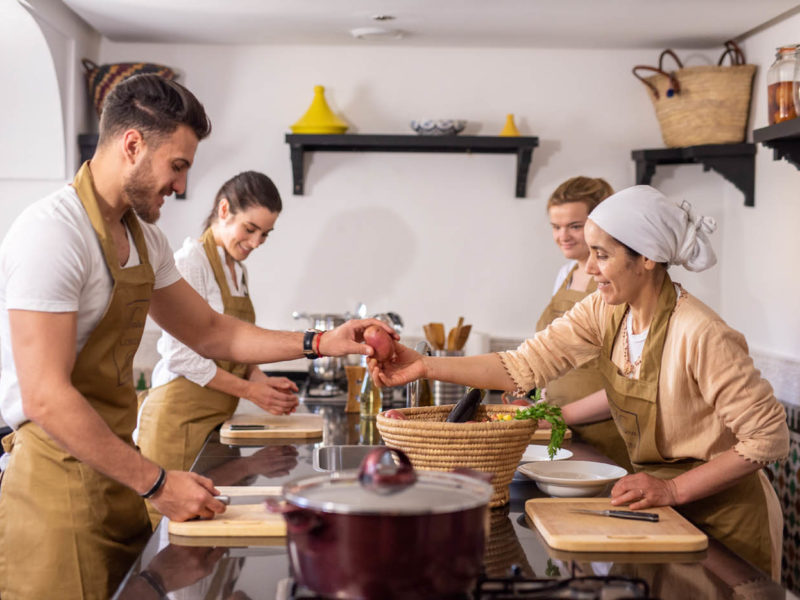 Fresh local ingredients
Students will spend the morning shopping in the souks of the Medina with our Chef, choosing the freshest local ingredients for the dishes they will be preparing in the afternoon. The duration and difficulty level of the courses can be tailored to each student.
We also offer "Epicurean Experiences" – a package that combines the classes with tasting tours of the Medina, a visit to a winery in Meknes, couscous hand-rolling workshops in a village in the countryside and seasonal excursions such as orange-blossom water making and olive oil pressing.